ICYMI: Leger Fernández Concludes Agua Es Vida Tour, Highlights the Importance of Addressing Effects of the Climate Crisis
WASHINGTON - In case you missed it, this week, Congresswoman Teresa Leger Fernández concluded her Agua es Vida Tour to put a spotlight on the climate change impact on New Mexico. 
In the last two weeks, she met with the Rio Chama Acequia Association, local farmers, the Carson National Forest Service, and Taos Pueblo. At each stop she heard from local leaders about the impact declining water supply and the climate crisis is having on their communities, and the innovative work they're doing to preserve water resources and manage forest lands for future generations. 
Leger Fernández is on the House Committee on Natural Resources and will be bringing her conversations to D.C. to advocate for the communities most impacted by climate change, including drought conditions and uncontrolled wildfires that continue to devastate the Southwest. 
AGUA ES VIDA TOUR: PHOTOS & VIDEO HERE
See coverage and highlights below: 
Image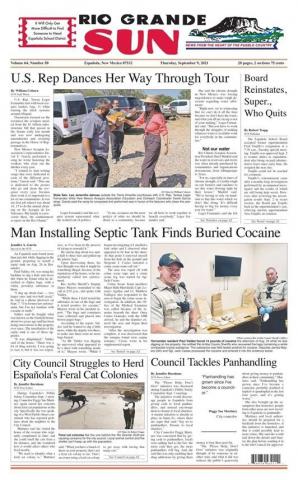 Rio Grande Sun: U.S. Rep Dances Her Way Through Tour
[...] "To me, acequias are the most perfect [symbol] of what we should be about as a community, because we all have to work together to benefit everybody," Leger Fernández said. 
[...] She said the chronic drought in New Mexico was forcing mayordomos to make tough decisions regarding water allotment.
"Right now, we're witnessing that we can't do it all the time because we don't have the water, and what you all are facing is not of your making," Leger Fernández said. "But you have to work through the struggles of making whatever water is available work for everybody in the communities."
New Mexico Political Report: Acequias along the Rio Chama face water shortages amid drought, climate change
[...] Leger Fernández visited acequias along the Rio Chama as part of her Agua Es Vida tour on Tuesday. The tour was an opportunity for the congresswoman to see first hand how climate change is impacting water users in New Mexico.
[...] The members of the acequia association have felt left out of the conversations about water in New Mexico, Madrid said. He said it can be frustrating for farmers to watch water flow by their houses but not be able to use any of it because it is allocated to areas like Albuquerque as part of the San Juan-Chama Project.
[...] The tour began with a song about cleaning acequias. Jaramillo and Leger Fernández danced to the tune and, at the end, the group gathered to sing the final line "para mantener lo que yo quiero tanto"–to maintain that which I love so much.
"To me acequias are the most perfect symbol of what we should be, about a community, because of the fact that we all work together to do the limpia, to clean the acequia," Leger Fernández said. "And then it benefits everyone individually."
Taos News: Rep. Leger Fernández supports new forest stewardship efforts
U.S. Rep. Teresa Leger Fernández, D-NM, met with the Carson National Forest Service and the Cerro Negro Forest Council in Valdez on Tuesday (Sept. 7) to discuss forest thinning, fuelwood and economic support to local communities as part of the congresswoman's Agua es Vida Tour.
[...] "I sit on the Natural Resources Committee," said Leger Fernández. "I chose that committee because, New Mexico, if we counted our public land alone, we are the 10th largest state."
"Forest Service is not under our jurisdiction, it's under the USDA," she continued. "But what we need to make sure we start doing is not having the siloed agencies, in the same way we can't have siloed communities."
Image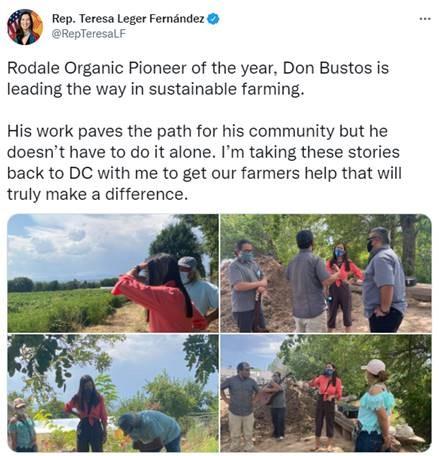 Image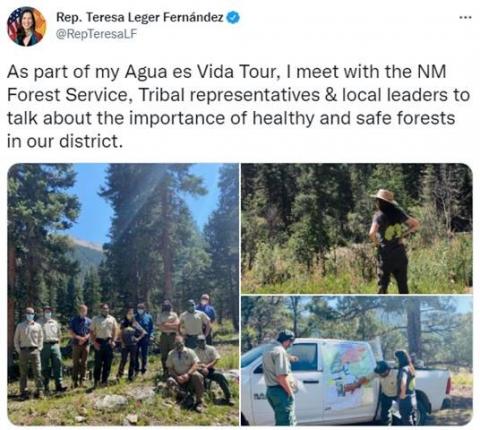 ###