ICYMI: Rep. Leger Fernández Gets Orphaned Wells Cleanup and Jobs Act Passed Through Full Committee Markup
WASHINGTON - In case you missed it, last week the House Natural Resources Committee passed Rep. Teresa Leger Fernández's Orphaned Wells Cleanup and Jobs Act. This legislation would authorize $7.25 billion to clean up abandoned oil and gas wells that leak methane and pollutants into communities and create jobs in rural communities.
See coverage and highlights below: 
Santa Fe New Mexican: Orphaned' well cleanup bill heads to U.S. House floor 
[...] Leger Fernández pushed back against the criticisms. Orphaned wells are a widespread blight, including in New Mexico, she said, so it's important to make sure operators will clean up after themselves to prevent the problem from escalating at taxpayers' expense.
"The operator has a legal obligation to plug the wells, but because these bonds are too low, it's too easy for them to walk away," Leger Fernández told the committee. "If we allow a system to continue to go on, which creates these orphaned wells, we're going to be in the same position five years from now.
[...]  Leger Fernández argued that operators who can't afford to pay the bonds are on shaky financial ground and are likely to leave behind orphaned wells.
She pointed to a study commissioned by New Mexico's State Land Office that estimated potential cleanup costs of wells at $8.3 billion, with current bonds totaling just $200 million.
State regulators and industry representatives have called the worst-case cleanup figure into question. But Leger Fernández contends it clearly shows the current system for bonding is inadequate.
New Mexico Political Report: House Natural Resources Committee passes bill addressing orphaned oil and gas wells
[...] The freshman Democrat said there are more than 700 orphaned wells in New Mexico as well as "countless more" idle wells that could become orphaned.
Leger Fernández said when visiting those wells she could taste the metal in the air and see stains around the deteriorated well pads.
[...] Leger Fernández said the issue of asking an operator to live up to its duty to reclaim sites should not be partisan.
"Because these bonds are too low, it's too easy for them to walk away," she said. "So if we allow a system to continue to go on which creates these orphaned wells, we are going to be in the same position five years from now, another five years from now, another five years from now."
Image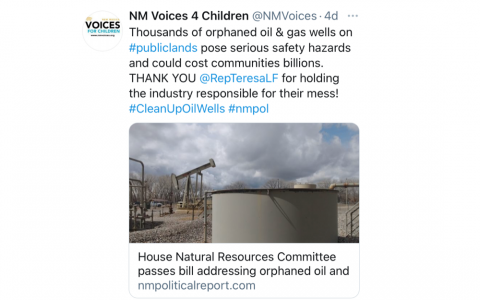 Image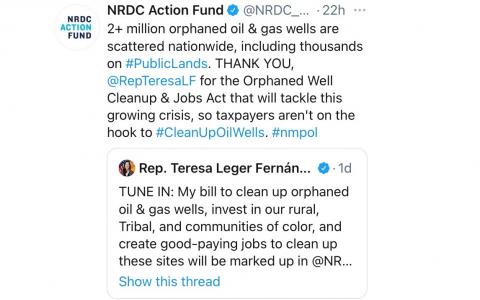 Image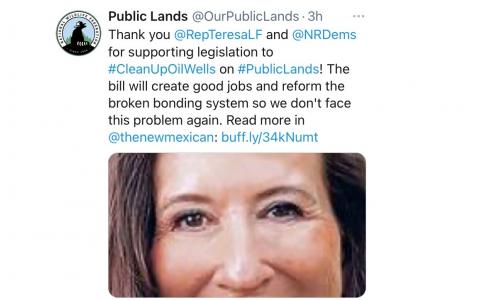 Image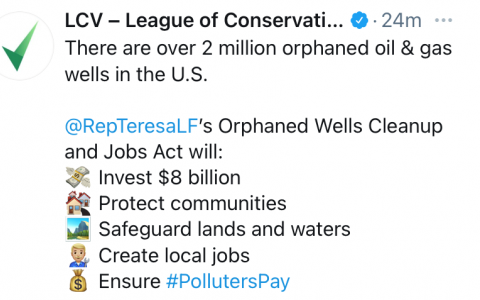 ###